I am an Eisner-nominated, fantasy illustrator with a huge imagination and can work in a wide variety of genres. For the last 15 years I have worked in comics, children's art, RPG fantasy, and games; and fans from conventions also know me for my simple fun illustrations that encourage the basic human need for creativity.
* 17 years professional experience in printing, production, prepress, web design
* I design brochures, graphics, headers, custom cartoons, comic, prints and more.
* I can fulfill all your graphic marketing design needs
For quotes and information contact me at  travscustomart@beanleafpress.com.
Client list includes: Wacom, Teacher Created Materials, Sling with Me, TSR, Griggling Games, Gygax Magazine (Issues 3, 4, 5), Phoenix Comicon, Tuscson Comicon, Long Beach Comic Con, Table Rock Team, True Believer Comics, Earth Dawn, Lynx graphix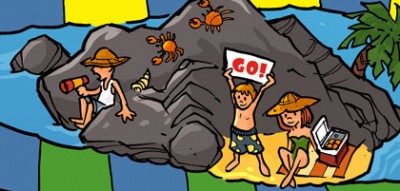 To see more of Trav's Client work click on his gallery here

Let's go on a grand adventure!  Imagine the magic, power, and excitement that your own imagination and the artwork of Travis Hanson can create.  Is there a character or a memorable scene you would love to see hanging on your wall?  Which special feelings would you like captured in your one-of-a-kind commissioned artwork? Where can you imagine your original artwork hanging in your home, reminding you of your ability to appreciate fine art?
Your family can be part of this great adventure!  You specify the items, location, and people you want to see in your original artwork.  You determine if you want black and white or glorious color and choose the color scheme to best capture the dreams, memories, or ideas you want to remember.  You decide what message to the world you want to convey.  Dream Big!
* The artwork belongs to you.  I do not make prints of them or sell them to anyone else.
* The original artwork (and color copy if you choose that route) are an extra $20.00 to cover postage and handling.
* 4 Standard sizes to choose from.  See price sheet for details.
* Unique sizes available, email for pricing.
* All commissions are showcased on Bean Leaf Press website.
* All artwork is G or PG rated.
9×12

$75 inks

add $75 for color +$10 shipping depending on location



This is usually a basic character and limited background


11×14 $150 inks add $150 for color +$20 shipping depending on location
This is a basic scene with characters. Upgrades are available

13×19 $200 inks add $200 for color +$20 shipping depending on location
This is a more complex scene with characters.
17×22  – starting at $350 inks add $350 for color +$20 shipping depending on location
These take a little more time, but you will also get a color copy if you go the color route and pay the shipping option. Price is also subject to change depending on how complicated.
Larger than 18×24 … email for details and price negotiations.