We just hit the 10000 mark and are moving towards another stretch. I decided that if it hits the 15k mark I would add another special gift to all the hard cover books. There is no way we could have done this without you.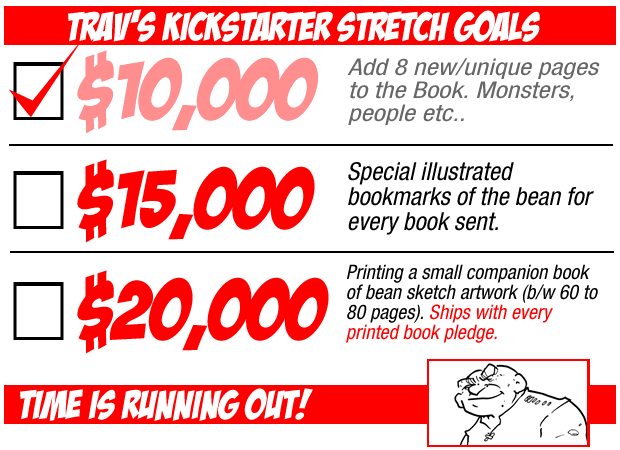 So where are the spot arts? I am sorry. I have so much on the plate right now that I am working on them but i have to finish several projects first.
My main goal is now working on the additional 8 pages to the book and the cover art. I will be posting the cover art very soon. Hopefully by the end of the week I will have the b/w artwork done.
I also have 16 pages left to draw- and several spots for the book. Once the cover art is competed I will start working on the maps. I am really excited about the maps and look forward to finishing those as well.
Thanks again for all the incredible support that has been given to us, in helping us get the books out. You have become actually part of the project and your support drives me to push harder. On a side note- I am also starting the script to vol 4 this week.
So remember time is running out , if you want to be part of this-
It's a good day for the Bean
keep creating
trav-