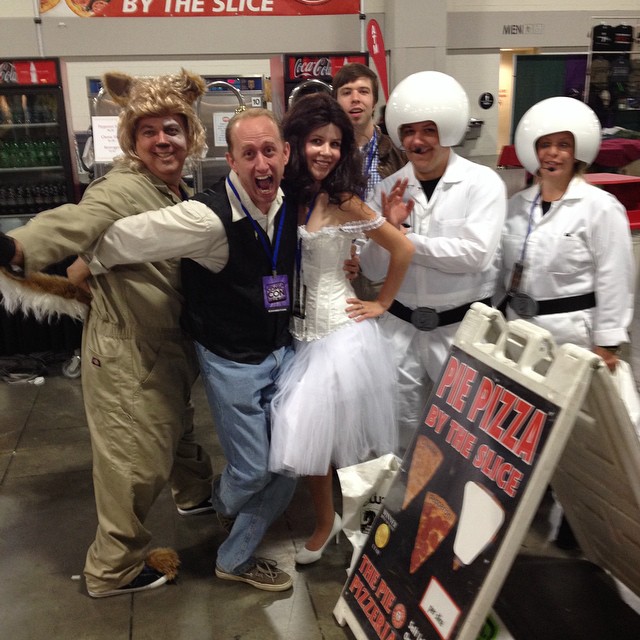 Salt Lake City's 2nd Annual Comic Con has come and gone.   As I decompress and enjoy a quiet moment eating macaroni salad and hanging out with my family, who really just want to sit next me, I find myself thinking about our incredible adventure. There were a lot of things that were enjoyable about the show, but there are also many things that need to be addressed and fixed to make this show … an incredible show.
After 13 years of exhibiting at shows (about 10 to 12) a year, I have seen shows that have been an incredible adventure, shows that have been so-so, and some that well, they join the ranks of the show that will not be named.
So what makes a show a success? Well if you read what some shows say about themselves it's all about the numbers? Or what a celeb might say- yet – that's not really true. If you really want to get a vibe of show, talk to the exhibitors. Look at the vendor list. Who has table space? What many cons do not realize is that vendors talk and wield a lot of influence to other vendors. Yet we will talk about that in a moment.
Understanding that what makes a show successful is truly the overall experience that a vendor has, that an attendee has, and that the organizers of the con have. If one or two are out of balance it creates a show that will struggle until it finds balance.  Also what makes a show successful is how they bill themselves. Many shows on the west coast want to be San Diego Comic Con. That's what they want to be, they want huge inflated attendance numbers, lots of celebs (which is ok) and to be billed as the best show in the west. I think that they are missing the point of what a con is and how to make a con grow to be a fantastic show that allows all 3 aspects (vendor, attendee, and con runners) to have an enjoyable aspect. In fact my first suggestion is to focus not on being San Diego, or competing against SDCC, or anything to do with SDCC or another con, and focus on being the most incredible experience for your community. They you will create a truly incredible show.
Phoenix, Emerald City, and Tucson understand this principal. Their shows are geared to their community, they talk with each other, they talk to their vendors and they make sure the experience for the attendee is as smooth as possible.  Their shows are not about them, but about creating an experience and though they are not perfect, they are succeeding.
So let's break down the show. Remember – I am not dogging the show, I am just talking about observations, things that can be approved on and things that worked well. I am actually talking to exhibitors. They want to know, because there is a vibe about SLCC, if it will be worth their time. I have always hoped for another show in the Midwest. I think Salt Lake is perfect for it actually.
There are a lot of great people there. They were kind, many were shell shocked (first con experience) and they seemed to enjoy themselves for the most part. Having a very strong show in the fall, would be ideal for artist and exhibitors. Especially an art heavy show (with good art). There several smaller shows, but not one that helps cover some of the slowest times for artists. SLCC has that possibility.  If we could get one or two more – that would be awesome and there are some shows out there that are working on it. So what happened – what was good and what… well needs to be addressed.
the Good-
The people. I love the people. When I go a show, I enjoy the interaction. I understand that I am there for them – not for me. My whole goal is to make sure the attendees that visit my booth have an incredible experience. Because of that- that benefits us.
Like I said the people were awesome.
Artist alley was in the front- I actually liked that. It's the first thing people see as they walk in –
kabobs – ok call me silly- but at $3 a kabob, it was quick and easy meal that didn't break the bank.
The con organizers offering free passes to those that couldn't get in Thursday. Thursday was a rough day it seemed for everyone. The line management was out of control. It was quite frustrating, yet the organizers figured it out and Friday and sat went very smooth.
A lot of people there, many for the first time, and many looked very overwhelmed.
Loading in and out- for us was awesome. Easiest load in and load out experience ever.
The cosplay was fantastic. I must say that is what I love about the shows… It's like Halloween for three days, but the costumes are soooo much better.
Having the tax people there to get you the right forms! Huge plus for us out-of-state vendors. Made it very nice.
the Bad
I really want this con to be successful – but there were some issues that really need to be addressed. They actually in the long run, can be pretty disastrous if they are not looked into.  This is not to make the show look bad- I had a good time, but there were other vendors (veteran vendors) that had a miserable time.
The hall layout was weird- It was a shape of an L- Now that's not the fault of the organizers. Most conventions have no control over the hall space they are given at their local convention hall. What Organizers do have control over is the layout. There were many dead zones created with the layout. Huge dead-zones. Long walkways don't work with t-bone sections. It messes with flow.
Phoenix and Emerald solved this problem and if more cons looked at their layout to improve theirs it would completely change their shows for the better. They grid it. Every booth is a corner at those shows. Salt Lake struggles here and the layout was odd and confusing. It did not help that there was a wrestling match going on in the middle of the hall. If that had been a little more off to the side it would have allowed for a lot easier flow between the two sides of the hall.
Lack of respect towards premium booths by the show. One vendor paid for two corner spots (a huge chunk of change) and they were made to believe that they would have good visibility and an aisle. They did until the organizers placed and Air Force tractor trailer right in front of their booth. Creating only a 5 foot walk and completely blocking off there booth to the public, effectively shutting them down at the show. No-one could find them and they do some most incredible work. There were other vendors blocked out by other things as well. The wrestling made it hard for the vendors in front of it trying to talk over the announcer and the noise. It wasn't a good experience. (We were not in that group either).
A lot of vendors were not media, comic, publishers, or artist… this is a problem, when insurance people and non-comic con vendors fill your show. The show becomes a bazaar and it's not what the fans came to see. They can buy insurance somewhere else… the con floor space needs to be about comics, and media… especially if the show bills it's self as a comic con. Best Buy? Really?
Several empty booths. This is not a good sign either. They need to sweeten the deal to publishers and creators… they are a lot cheaper than actors :).
Beer- ok this is touchy one… I don't care if people drink, but open containers on the floor of a hall are a recipe for disaster. I have only been to 3 shows that have had alcohol on the floor.  New Mexico, APE and, I'm a little surprised… Salt Lake. The reason I don't like booze on the floor is this- while in New Mexico someone dropped a 44 oz in front of the booth and the area smelled like stale beer for the rest of the day. At SLCC someone dropped an open beer all over a $400 original painting at my friends booth and the just walked off, leaving them with a ruined painting and out $400. That's why I'm not a fan of drinking on the floor.
Panel information, aps and information in general. I understand they wanted to get people to use their app to find panels, but people just don't. I was on two awesome panels. The problem was when trying to find my panels, we went to the guide to find them. PLEASE PRINT IN THE PROGRAM NEXT TO THE PANEL THE PANEL ROOMS AND THE TIMES AND DATES WHERE PANELS ARE SUPPOSED TO BE!!!!!! It made it really hard to get to our spots on time.
When I went to exhibitor information for important information- (twice) they shrugged and said they had no idea.
Security at the end. San Diego has this down to a t- Salt lake I would suggest to take notes. They clear the hall with their security. They start in the back and work their way to the front one aisle at a time. It's the best way to do it. Asking people to politely leave, doesn't work.
DJ's next to vendor booths. They make it hard if not impossible for the vendor to interact. I know of several vendors that struggled here.
Lack of exhibitor information… this was frustrating-
the Weird Ok there are always a few things that I find weird.
Wrestling… I don't know, a few cons have done it but I find them more as a distraction.
The overhead system asking for a licensed dentist in the house… Must have been due to the wrestling?
The overhead system asking for all lost children to go to the information desk… there seemed to be a lot of lost children.
Overall Feelings…
I enjoyed the experience at the show. My show was better than many of the vendors. This show is experience serious growing pains. Yet I believe the organizers want it to work. I saw that with the line issues on Thursday. They were on the ball. They tried really hard to make it up to the attendees. I applaud them for that.  They also seemed to want it to be fun for everyone.
I hope they reach out to exhibitors more especially the exhibitors that had the Air Force Trailer parked in front of their booth. They need to make that one right.
The main this is just the focus is a little off. Stop trying to be SDCC, stop focusing on numbers at the moment (focus a little on them) but don't make that the priority, don't be a comikaze (ugh), just focus on being a great show for your community. If you do that – if you make the vendors feel important as well, and organize the floor better so that it generates flow and not dead zone or blockages, you will have an incredible show.
I did enjoy myself. Like I said- I don't expect a 2 year show to be like a 40 or 13 year show. There is a reason those shows are doing what they are doing. They figured out the balance of exhibitor, attendee and con…
Would I do the show again? Yeah, I would do it. I know what to expect and like I said I really really want to love and see this show be successful. It has a lot of potential and I look forward to what tweaks they will make.
Keep creating –
Keep adventuring and here's to stronger show in the future.
trav-