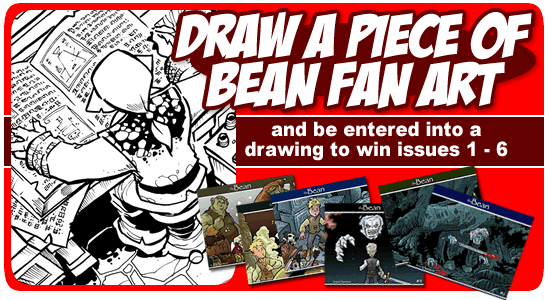 Do you enjoy Bean? Do you like to draw? Well, we're looking for fan art. I wanted to have a little fun with this as well. I'm looking to dress my site up with art on others see my characters and worlds.  Draw a piece of fan art and your name goes into a pot. In one week we will randomly pull a name and that person will win signed copies of issues 1 thru 6. This will not be based on ability or quality, but on the fact you entered. I will though create a new section on the site and dedicate to you, even posting a link to your site.
I look forward to seeing your work and what you come up with. Send all your artwork to thanson@beanleafpress.com and put in the header Bean Fan Art. Also jpg only and keep it under a megabyte. Just makes things easier. Spread the news!
All drawings must be submitted by 11:59 pm  Friday, Dec 17 and we will announce the winner Dec 20. Plus I don't care where you live, I'll cover the shipping.
Special note: Drawings must be appropriate for all ages, and if I deem it questionable, I will pull it.
So Keep Drawing and Keep Creating!
Trav