Exclusive Phoenix Comic Con Artwork. I had a nice opportunity to sit down with my friend Matt at Phoenix last year. After a bit of ribbing on his part and some jokes on our part he asked me to do a special limited edition piece for their show next year.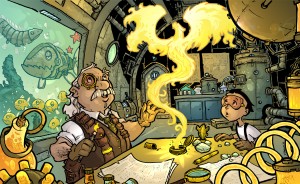 All he asked was that I put a phoenix in it and that it have my spin on it. Now for those that know me, my imagination is all over the place. I really struggled to find the right way to make this piece work and one night it just came to me. I was even able to throw in a few robot fish:)
This print will only be available at the Phoenix Comic Con and no where else. There are only 150 of these prints. They will be numbered and signed. Retail is $20.
I am really honored Matt asked me to do this and I had a lot of fun putting together. More great things to announce about phoenix soon.
Trav-