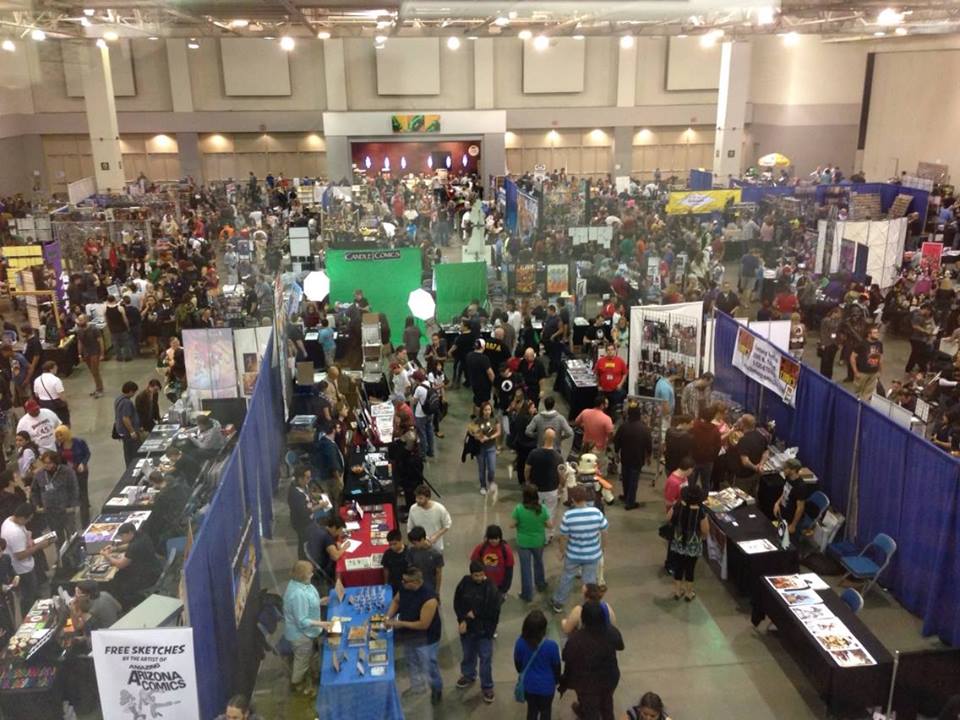 This last weekend my wife and I had the pleasure of attending the Tucson Comic Con. It's one of the small shows in the southwest, but they way things are going for that show and the sudden growth they had this last year as a con, gives them the opportunity to be so much more. Especially in an  environment of "certain" shows having very inflated egos and wanting to run other shows out of business. You dont find that here in the town of tucson.
If phoenix Comic con (which is fantastic by the way) is one of the power houses of the west, tucson is the little sister that is finally finding her own place in the growing world of comic cons in the midwest.  The show reminds me of the "mesa" years for phoenix and that is a very good thing.  It still has a few growing pains to be addressed but in time and by the organizers desire to learn and work them out they could have a very big show on their hands in the next two years.
Now, I understand that there are three fundamental aspects to balancing a con to make it successful. 1. Fans have a good time 2. Exhibitors make money and 3. that the organizers are organized.  When all these aspects flow smoothly the con is successful. This creates instant publicity and vibe for the show, because the fans and the exhibitors will talk up a good show so the organizers dont have to.  If the only good news you hear from a con is from the con itself… i would seriously reconsider going to that show.
So how did Tucson do?
1. The fans. Wow- talk about crowds. Sat was packed. The atmosphere was pleasant with very little complaints (personally didn't hear any). I did meet a lot of first timers- who were blown away and very pleased about the show. Also the cosplay was incredible. Some very awesome costumes and a strong mixture of superheros, gamers, anime and tv icon costumes. Loved it.  The fans seemed to really enjoy what was going on as we chatted and talked. There were many times our table was slammed and having a third person, might have been nice but we pulled it off.
2. Exhibitors. There were a lot this year. I was told that they are looking to expand the hall next year. Which would be good. Bring the cosplay down to the floor level. I think that really livens up a show. From who i talked with every exhibitor (that engaged with the fans) had a good show. There are a couple of issues- but these are minor and can be fixed in organization.
3. Organization- This is Tucson's 6th year. Since it's move to the convention center, the show has steadily improved in functionality and how it is run. Yet if it wants to continue it's ability to grow as a strong show, I would suggest bringing on more of a solid crew to help, instead of everything falling on one man's shoulders. (he does a fantastic job but now is the time to spread the leadership with people you can trust). This will include a little more planning on set up. My only gripe was some of the aisles. People need to be able to move freely in set lines. n to s, e to w. By creating T-intersections, this stops traffic flow to some aisles and people end up avoiding the aisle. Just some small tweaks here and there and that will eliminate that. Look at how  Phoenix and ECCC set their aisles up- it creates incredible flow and movement for both venders and fans.  Also set booth placement early- being small you can get away with not having to do that. Yet as you continue to grow and get bigger, send out the table placements early, so exhibitors can create maps to their locations and help their fans find them.
On the plus side, The staff was incredibly friendly, helpful and went out their way to make guests and exhibitors comfortable. Huge plus there. Bringing water, sending handlers to get us to panels, etc. That was very nice. Everyone smiled, no one complained and in the end it seemed that everyone had a great time.
So in looking at the show as a whole, the experience was well worth it. Like I said a few minor tweaks and it will be ready to take it to the next level. They have backing from the city of tucson and it was pretty cool to hear that the convention hall itself was getting the word out. It seems that tucson was willing to help make this show good and that is a plus. When a city realizes the potential of a con, the con only gets better.
In the end, the show was solid. Good for an exhibitor and good for the fans. That's a plus. Not all shows are like that. Like I said there are some minor organizational issues but that is easy to fix with a good group of volunteers that a creator can trust. It was fun and if I had to choose between shows in nov I would choose tucson. Seriously they and their town seem to want a artists, creators, and dreamers to be there. There is no ego and that is such a pleasant relief. Exhibitors and artist in my opinion it's worth looking into next year, if they can continue on this path.
My wife enjoyed the show as well, she usually does not get to go cons, due to our family being busy and big, so this was a real treat. She was touched by the support from everyone and the kindness. It was also great to see old friends and meet a lot (and i mean a lot) of new ones. I always look forward to arizona shows and hanging out with the art community down there and this time was no different. Thank you.
I give the show a strong solid B+  It proves that small shows can really be worth it when done right.
trav