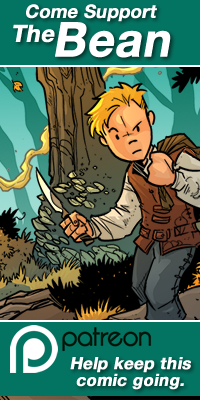 Good morning. Back from fan fest and i am tired, but in a good mood. The show was fun and it was nice seeing family and friends again. Shout out to the phoenix crew, who put that together.
It's also nice to be back, with some open time for the next several weeks. I am looking forward to that.
Big news though, this is the last page to chapter 17 and next week we start chapter 18 of the bean. Looking forward to seeing what will happen to our young dishwasher. Though I do laugh to myself that the first page to 18 is 666… sigh 🙂
Well back to the grind stone – with new books and new pages.
Keep creating
trav