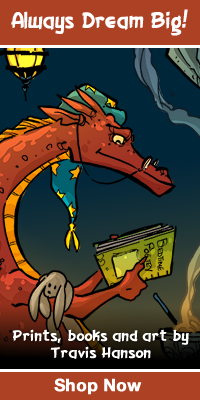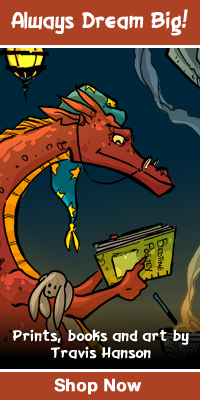 08.18.2014 -Welcome to today's color update. This is so exciting, because now you get to see my world outside of the inn in the color. What a great day today.
Also I am prepping for Salt Lake City Comic Con. Which is in a few weeks. So if you are up in the area and want to hang out and get a free sketch or two, please come visit.  I might also pass out some custom lunchbags I doodle on for my kids… you never know.
So yesterday I announced this months special ink giveaway. Each month I select a special patreon to get a free ink. They are worth about a $100 each. It is one of the ways I can say thank you to my higher backers. I am thinking of doing a smaller ink for the lower tiers.
There is so much going on right now. I just wanted to share a little about it.
Also if you are looking for a private commission- I do those all the time. I love helping other's dreams become reality.
Keep creating-
trav