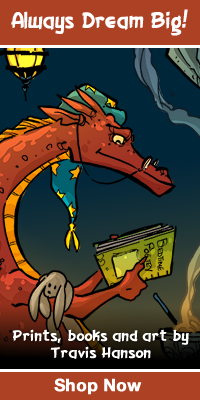 Good morning and welcome to today's color update. I do hope you enjoy it. If you want to read the comic the way it was meant to be… than just scroll down and click read bean from the beginning. I do hope you can really see how much more color adds to the story.
Also I am working on several other projects at the moment. It's been a very exciting ride. I am looking at seeing where these adventures take us.
Plus if you want to help keep things moving in the bean – please visit my store or support my patreon campaign. Your support allows this site to never be a pay site. It allows anyone to read my stories.  Plus you can pick up books, puzzles, original art, and prints, that are meant to inspire one's imagination.
Thank you again for your support and most importantly remember to keep creating.
trav-