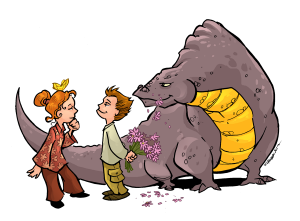 So I had written this really awesome post here the other day. I mean it was inspiring and deep. I was excited that I was ahead of the game as well… Then I woke up this morning and realized … "hey were is it". I thought I had saved it, but I guess I did not. Know I will just have to rewrite it and hope it flows as well as the last one.
The second comic to the living in your imagination is up. You can click on the picture to the left to visit it. I found myself realizing how important it is to balance my work. I am enjoying these quick little pieces. They are bringing something out of me that has been stuck inside for awhile.
Let's talk about today's update as well.
This is one of my favorite scenes… why I don't know. I do think it shows a new level of Thaddeus and it also introduces one my favorite characters who I have been dying to get into the comic. The drag about long form webcomics is that you have to wait a while sometimes for things. I mean yes there is that temptation to throw them in early but that can throw off the story. I love crystal viewing chamber as well. Ok enough about that.
Did you notice the cosmetic changes to the site? Any thoughts….
I am curious also, what do you want me to talk about here. What interest you, sometimes I get a little tied up for words and struggle with the update. Is their anything you would like me to talk about.
well keep creating and enjoy what life offers you.
trav