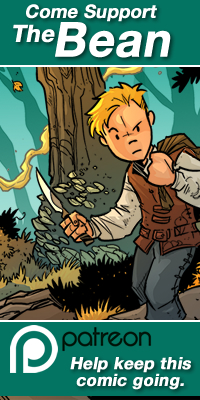 This scene has always been one of my favorites. Gort is such a jerk.
One of the things that coloring the comic has shown is time. Time within in the comic and how the environment effects the setting and emotional welfare of the characters. I like that you can now see that impact. To feel the warmth of the inside and the cold dreariness of the world outside. The rain, the misery and the general over mood of what is transpiring.
Makes me sad that I didn't color it sooner, but that is hindsight and I was not able to. Now it is a different story and I love the way it is coming out.
Also in two days (actually 3) I will pull a lucky winner for the first free original copic illustration to be one. It is of the bean. You need to be at the $10 level or more. I am really excited and I am getting ready to start putting together the next one.
Thank you again for the support and the help. More artwork is coming. More pages are coming and this story is only getting better because of it. It is because of your help that it is happening and I appreciate that.
thanks again
trav