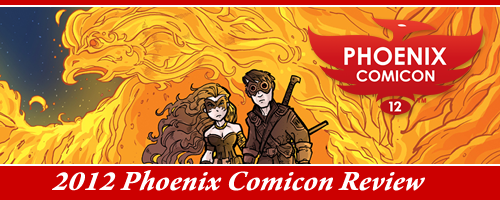 Each year I get to travel to about 8 to 10 shows. Sometimes as a guest and all the time as an exhibitor. Each show is unique on how it is run and the vibe you feel. There are shows that I have chosen not to go back to, due to many circumstances,  such as poor attendance, lack of organization by the show itself, how I am treated,  and if I can cover my expenses. Then there are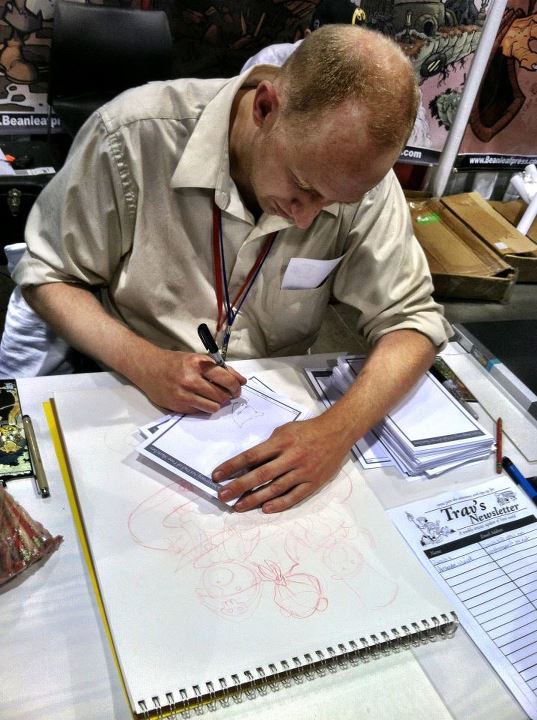 shows that I will return to religiously because of how well it is run and how much fun we have with the other guest and the fans.
Phoenix Comic is a show that is dear to my heart. It is one of the best run shows on the west coast. It ranks up there with Emerald City Con and is much better that SDCC, especially since SDCC cant expand anymore. It is also a show that my family is willing to drive out for a day and then drive the 5 hour drive back. That says something about a show. It is very very family friendly.
So let's talk about the show this year and what worked and what didn't. No show is perfect and sometimes things happen that are not the organizers fault but the convention hall itself.
This year I had to rework my team. It was bound to happen, and I was sad not to see my brother or brother-in-law with us, but family comes first in our homes, and I completely understand.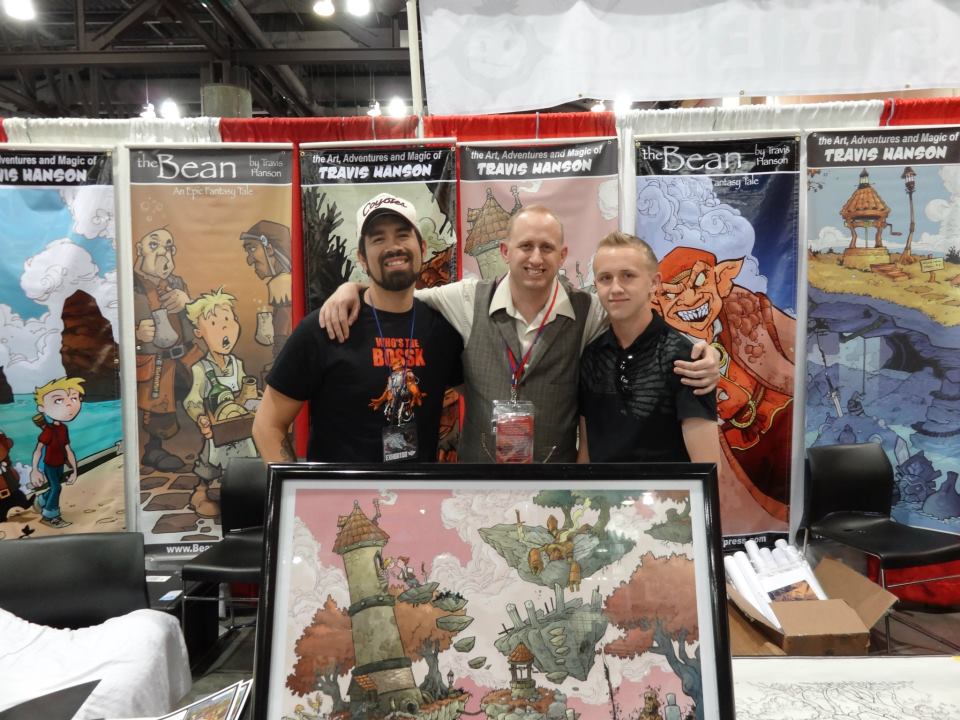 So my oldest boy stepped up and took over. He did a fantastic job as well. His ability to manage and organize is uncanny and I am really grateful he was there. Plus he makes a nice booth babe, cause several young ladies kept coming by. His uncles trained him very well.
Also new to the crew was Mike and his lovely wife Terasita – Mike helped us through the whole weekend and we would have been sunk without him. When you have 2 booths it's really hard to run the show with only 2 people. They are welcome anytime to help with the show. I also wanted to tell my adopted family Daniel, Donna and kaid- thank you for taking care of us. My family sure loves you guys.
Ok back to the review.
The show has grown since mesa. The walkways were a little bigger this year to. I had two incredible handlers this year. Plus the staff as usual was right on in making sure our needs were taken care of. They do know how to run a great show.
Highlights of the show-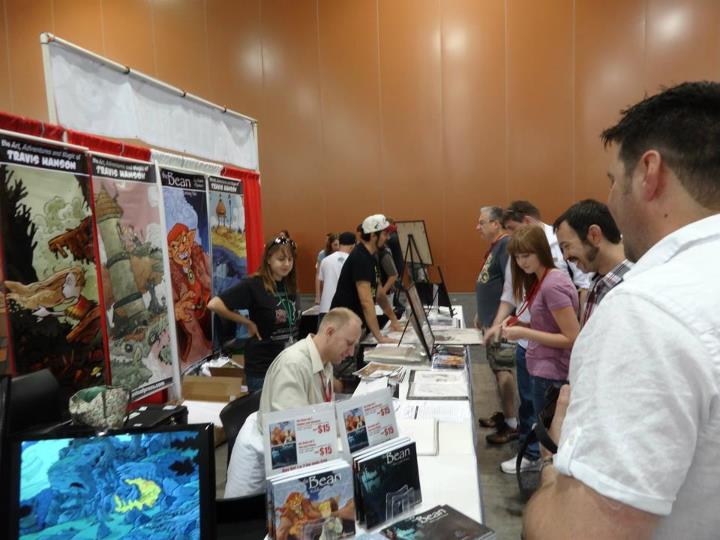 I drew about 800 Free Sketches.
Got to draw on the blade of a wooden sword that sold in the charity auction that benefited "kids need to read" for a $1000.
Spoke on 2 panels (the kickstarter one was the best with Spike of templar arizona. It was really informative. ) The writing panel was ok.
Participated in a very fun sketchoff with some really awesome and creative talent
Got to see the really cool "goblin boy" hut.
Found some really awesome new artist and picked up some new artwork.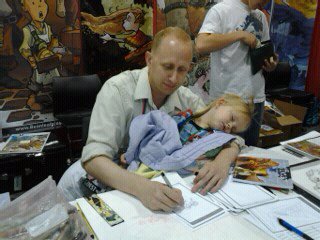 Got to hang out with my wife and kids who trekked out friday and saturday. Plus drew several sketches with sophia (3 year old) asleep on my lap, proving that I can multi-task
Also meeting someone by the name of Travis Clark Hanson- Pic to come soon- What are the odds of that happening- and no he was not an underwear model.
And we sold out of our exclusive by Friday at 2 –
Plus jeremy bulloch recognized me and stopped to say hi in the aisle 🙂
It was also nice to see Tony Parker, Ben & Julie, Joe and his family, Brandi, Faith, Matt, James Owen and clan, Rebecca and James  plus so many more…. I would name all of you, yet I would be here all day and I need to get back to drawing the bean and commissions today.
Yet there were a few things that one would consider hiccups. Most not the fault of the organizers by any means, yet more of an issue with the convention center itself.
Wi-fi dropped sat morning to sunday night in the hall- (this made cc transactions for most of the venders impossible.) This was due how far we underground and the lack of repeaters. Hopefully they can fix it. Really only one provider worked.
The other issue was the diamondbaks- that were playing. They got out of the park at 4:30 which waylaid the convention hall exhibitors from getting out on time. This delayed our trip home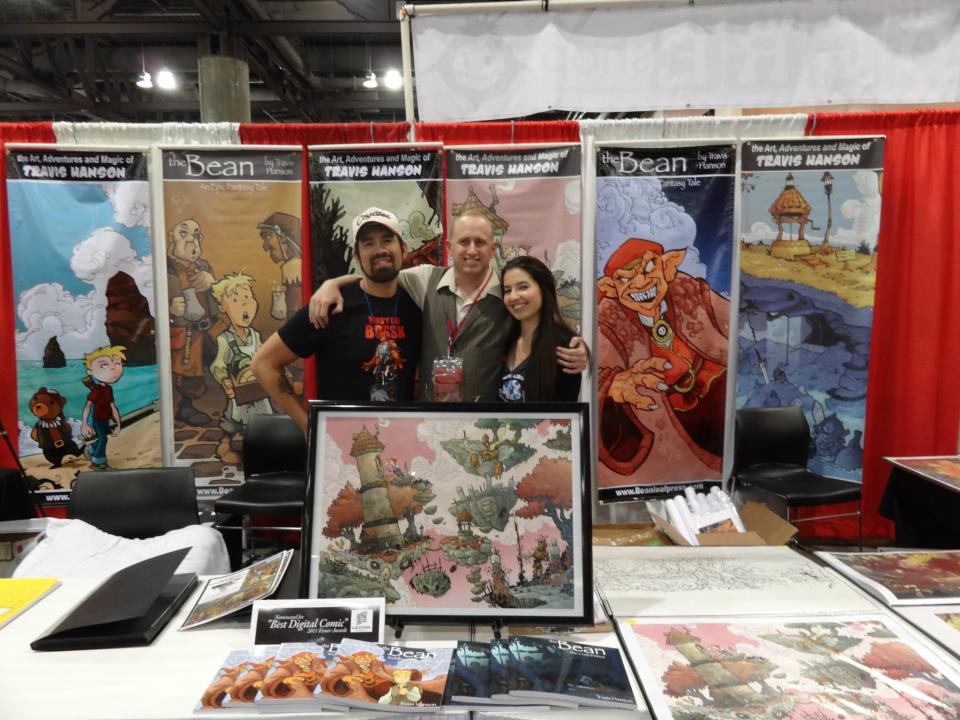 by about an hour or so.
Yet  those issues are minor compared to the incredible art vibe and spirit the phoenix community has. It truly is a show where you can still talk to the artist, enjoy time with the family and not deal with insane lines. In my opinion it is what SDCC needs to return to an that is a more relaxed show.
So next year mark your calendars. What better way to have 4 day show that ends with letting you have a day off to recover because of memorial day. Seriously. It's family friendly, good people and a lot of talent, I will always come back to that show.
And thank you to the organizers of the show- You know who you are. I appreciate what you do, the time you dedicate and
trav