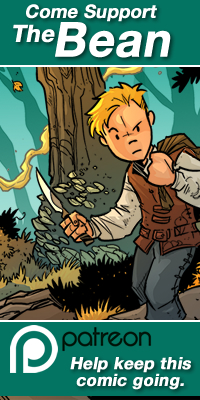 Good morning- sorry I am a little late today. I got in really late from the tucson comic con last night and what an incredible trip that was. I love the small to mid size cons, I love the big shows as well, but those small shows really allow me to chat and talk with people. It really keeps things into perspective for me. I want to thank the organizers for making the show are fun experience. It made the trip worth it.
So today's update… Well the cat is out of the bag…. and we finally learn who the left the Bean at a very dank and dark inn, in the care of couple of ogres. Which maybe in the long run was not a bad thing.
This is a scene I have wanted to share for a long long time. It's finally great to see it down on paper.
Thanks again for the incredible support and keep creating
trav.