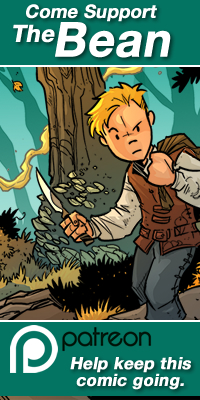 Time for an update on the Bean. It's good to see the legend Siv in color. He is one of my favorite characters. I also like the mood of the colors. I wanted it to be cold and feel wet. So that's why I choose the color scheme… I think really makes him look miserable and still willing to not give up.
Also working on several new projects and books at the moment. A lot of good things. Several books on autism and a new game- the art has been a blast. I am also getting ready to finish book 1 in color of the bean. I am still trying to decide what to add at the end. Trying to figure that out.
Thanks again for everything .
If you want to read the whole story from the beginning visit START AT PAGE 1 HERE
Keep creating – trav