SOOOO SORRY HAD THE WRONG AUTO DATE – NEW PAGE UP
Ok 10 pages left to ink for issue 8 -wo-wo!
Now last update we started to cast the different characters of the series. We started with the collector. There were 7 great choices. I was very impressed. So when all the actors have been thrown out there we will start polling on who the perfect cast for a bean movie would be.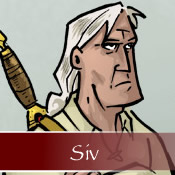 This update we will tackle Siv- Remember he is an older gent in his late 40's prob.  You've seen him in action and you have an inkling on his persona… so let's find the right actor to play him.
Siv….. Best Actor to Portray him …. Why….
Just list your suggestions below and make your case. Looking forward to who you suggest.
Keep on creating –
Trav-