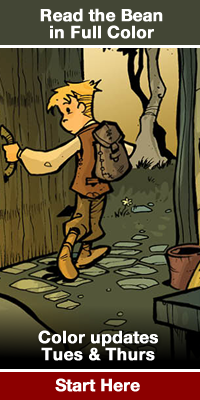 Well I almost missed today's update. I took my daughter this weekend up to college with my wife. It was surreal and kind of a hard experience for me. Yet I am so proud of her on what she has accomplished. I look forward to seeing her in a couple of months. It will just be a little quieter without her.
She is lucky though and will miss the heat.
I am currently working on the Kickstarter rewards and will be sending my survey out very very soon. The next few days I will be very busy – working on all the exciting things.
Also the coloring of the bean is in full swing. Each update happens because of your support and this story is getting such a wonderful feel to it. I love how it is coming out.
Thank you again for your support. If you you want to help support the coloring of the bean – just click through the patreon campaign.
trav-