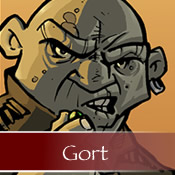 Short post today. Trying really hard to finish up on book 8 and had to redraw a page.
I am really jazzed about everyone's comments for the rest of our cast. I have really enjoyed it. So today Our casting call is for gort. He's big and mean.
So who do you think could play our innkeeper.
Gort…… who's the voice or the actor.