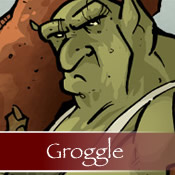 Working pretty hard to finish getting everything ready for the phoenix show. My big post about the show will be latter this week. So I am sorry for my lack of hanging out. Yet I have really enjoyed all the voice selections.  Keep up the fantastic work.
So lets push forward on our acting names. Todays special is groggle. He's our chef and a very unique figure in the inn. Who would be the best voice for this ogre.
Groggle….. actors voice and why?